Digital media specialists.
Contact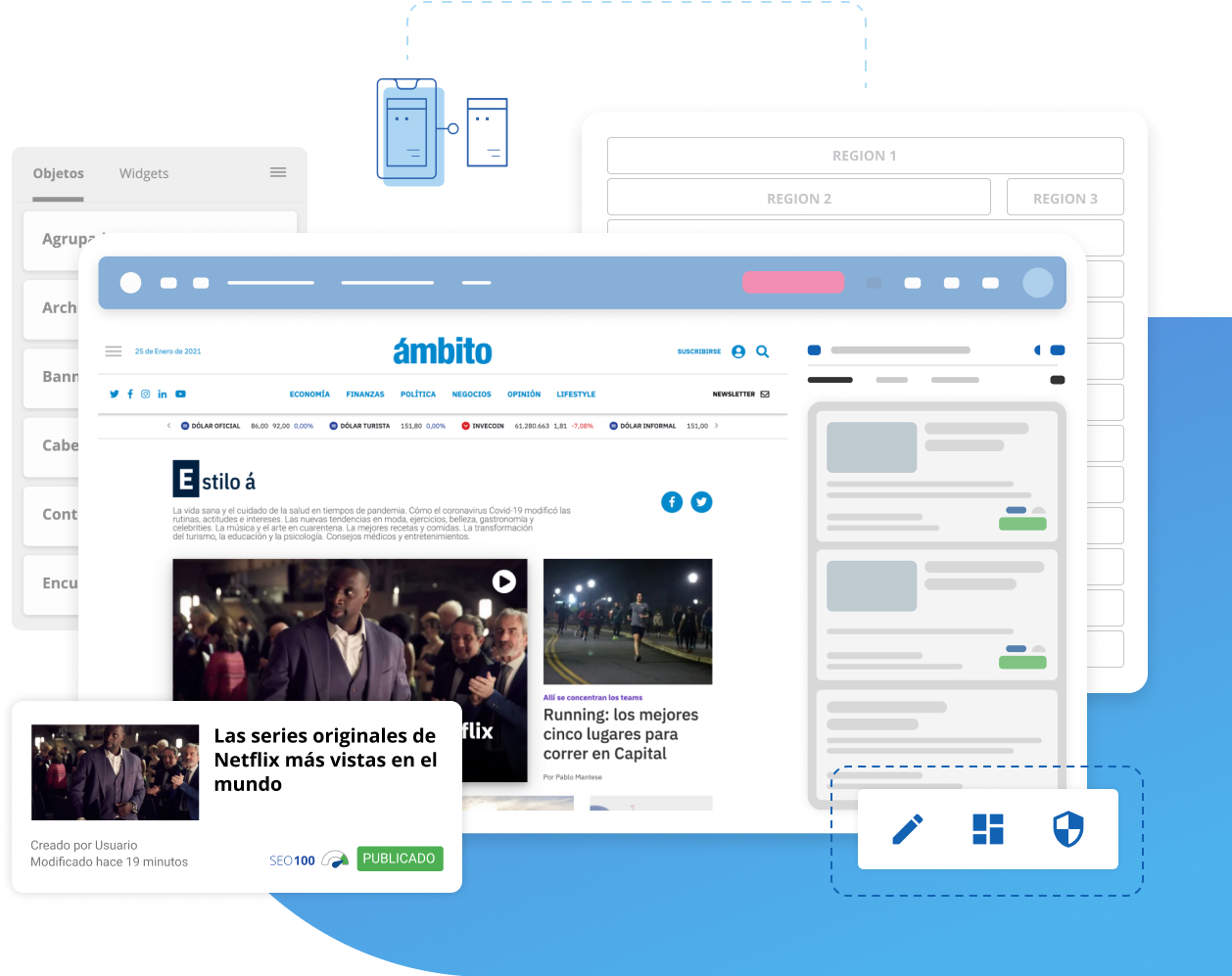 Thinkindot, a solution created for journalists, the most comprehensive and powerful of its kind in the digital media industry. With 20 years of constant evolution, it is the perfect partner for publishing companies that develop their content strategy seeking relevance, and performance.
Thinkindot includes a set of publishing tools and technologies specially designed for the digital media industry that help streamline the newsroom workflow.
What you see is what you get Cover Editor
Manage your cover content just with "Drag & Drop" and check how information is organized in real-time.
Automatic image cropping
Enrich your content with images, no need to adapt them to different resolutions or formats.
Integrated video encoding
Transform any video format into web video format, avoiding compatibility issues.
Real-time performance statistics
Improve your efficiency based on newsroom performance report analysis.
API integration
Thinkindot CMS offers total autonomy for your own module integration and development.
We are specialists in organic traffic generation. Every month, we implement CMS updates that ensure SEO results, a better user experience, and new features.
Google News Optimization
We improve content performance updating on Google News and ensure that your news reaches your audiences faster.
Real-time content SEO assistant
We generate content suggestions through an integrated SEO assistant that increases audience reach.
Full AMP
We offer website optimization with Full AMP, ensuring compliance with Google's technical requirements to enable faster web page uploading
Social media integration
Thinkindot allows you to share your content on social media directly from the CMS platform and reach a wider audience.
Advertising
Thinkindot enables intuitive, self-managed ad generation on your website and multiple Ad server integration.
Training and constant support
We offer training for newsrooms to help them deliver meaningful, relevant, and timely content to their audience.
Technical and Editorial SEO Consulting
As part of our 360 solution, we stand by our clients with an editorial and technical consulting service.
Newsroom workflow restructuring for SEO optimization
Customized consulting
Monetization solutions and business strategy
Positioning optimization and audience generation
A content manager designed for digital media, with built-in SEO assistant and constant updates.
Total web site self-management. Control over templates, creation of special sections, and "Drag & Drop" structure modification.
Access to detailed reporting on newsroom content generation and performance, and statistics for decision-making ease.

For the last 20 years, we have offered 360º solutions covering all stages of digital media evolution.
We provide know-how in process and technology organization, editorial strategy, optimization in audience generation, monetization strategy, and customized technology consulting. We work with world-class technology suppliers that support and ensure the quality, performance, speed, and stability of websites, even during the highest audience peaks.
E-mail
info@dosalcubo.com
Telephone
+5411 2152 0090
Arévalo 1361, Palermo Hollywood
Buenos Aires, Argentina